15 September, 2022
No Comments
7 Really easy steps to prevent ransomware
What is ransomware?
A ransomware is a type of malware that restricts access to the infected device, or threatens to deny access. Ransomware typically uses social engineering to get users to click on a malicious link or open an attachment in an email, after which it instals itself onto the victim's computer. Once installed, it encrypts all of the files on the device and then displays a message that includes instructions for paying a ransom in exchange for a decryption key.
The most common type of ransomware is the lock screen or desktop wallpaper that displays a message stating that your files have been encrypted and you must pay a ransom to regain access. The message typically instructs you to visit a website where you can pay the ransom, usually with bitcoins.
Ransomware attacks are often referred to as "crypto-malware" because they use encryption technology to lock your devices and files until payment is made. Crypto-malware attacks are on the rise, and there's no indication that they will slow down anytime soon. As more people become aware of the dangers of ransomware, criminals are finding new ways to trick users into clicking on malicious links or opening infected files.
Beyond Ransom is an initiative by Europol, Interpol and other European law enforcement agencies to combat these cyberthreats and prevent ransomware. 
Ransomware is getting a lot of attention these days, and for good reason. Ransomware victims are often left scrambling to recover their data with little to no help from law enforcement. It can be devastating to lose your files or have them locked up by a hacker demanding payment. But it doesn't have to be that way—at least not as often as it is today. With the right precautions in place, you can prevent ransomware, off your computer and out of your life.
Ransomware Attacks on the Rise
According to India's National Cyber Agency CERT-In Report, in the year 2022, India saw nearly 53% rise in ransomware attacks in which the main target sectors were Information technology [IT] & Information Technology Enabled Services [ITeS] followed by the finance & manufacturing sectors.
According to the India Ransomware Report 2022, ransomware disrupted critical services of various organisations to extort ransom in exchange for the information. In the previous year, at All India Institute of Medical Sciences [AIIMS], a ransomware attack disrupted the Institute's sensitive records.
Most common variants of ransomware threats that were used include Lockbit, Makop DJVU/Stop, Hive, ALPHV/BlackCat & Black Basta. Vice society, BlueSky, etc. were the new variants observed in 2022 whereas Conti ransomware which was quite active in 2021 came to a stop.The main targets of Makop & Phobos were medium & small organisations & the ransomware named "Djvu" is considered to be in dominance at an individual level for the past few years.
Many ransomware threats take advantage of zero day exploits. Microsoft, Citrix, Fortinet, SonicWall, Sophos, Zoho & Palo Alto, etc. are some of the product-based vulnerabilities being exploited. Microsoft Sysinternals utilities such as PsExec are being used for exploitation by the ransomware groups according to the Report.
In large infrastructure networks, the restoration time takes on an average of ten (10) days for infections & for smaller networks & individual systems it takes around three (3) days & one (1) day respectively.
Ransomware threat actors are improving their attack's operational efficiency by focusing on speed & performance. For example, encryption of a portion of a file rather than entire file & multithreading being used for faster encryption & decryption of files.
Common Factors leading to Ransomware attack: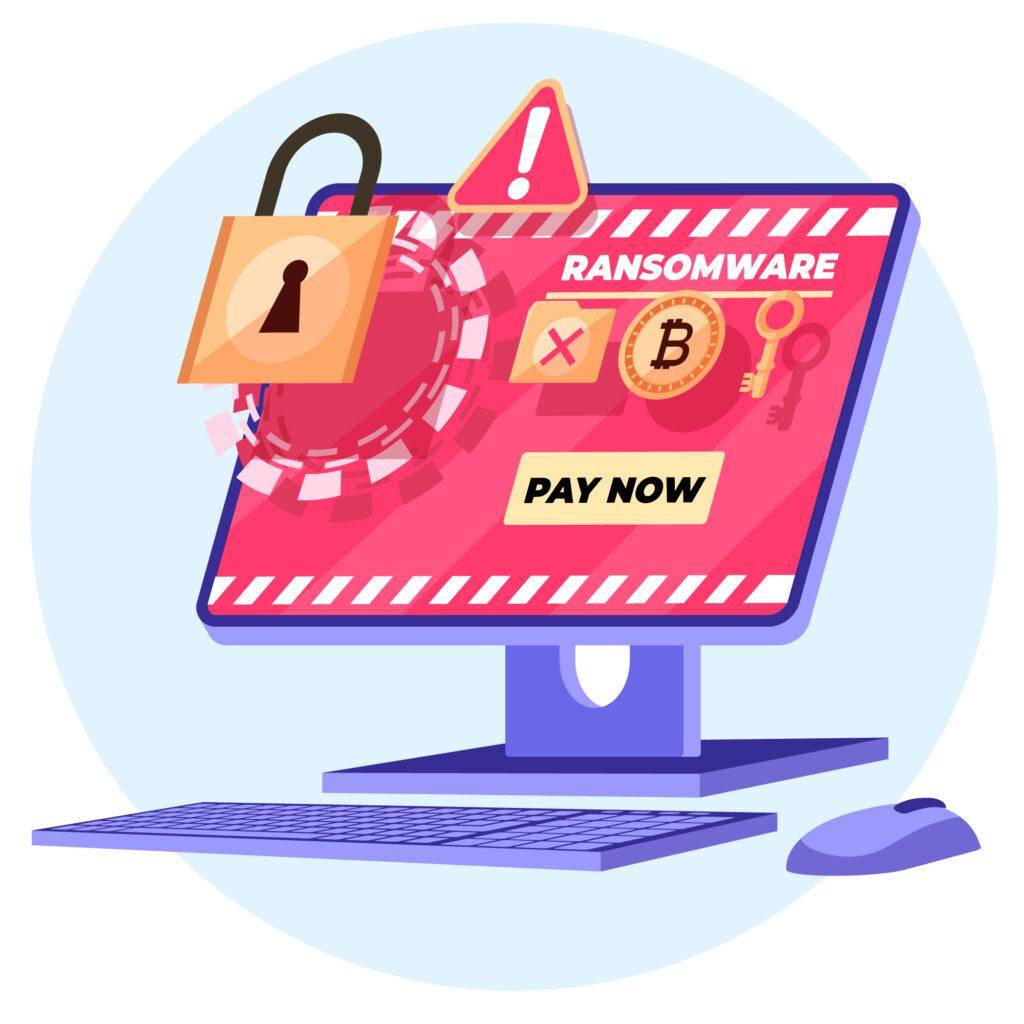 Ransomware is typically installed via phishing emails or infected websites. These tactics make it difficult for IT administrators to stay ahead of new threats and make it easy for hackers to gain access to computers.
Ransomware may also be delivered through phishing emails that trick users into opening an attachment or link to a website that delivers malicious code. Once installed, this malware can lock down your computer, encrypt files and then demand payment in exchange for unlocking them.
For example, ransomware may be distributed by hackers who exploit security flaws in software such as Adobe Flash Player, Microsoft Office and other programs that run on Windows operating systems. These programs are often targeted because they're used by many computer users and provide a high return on investment for hackers—the more people who use them, the more money a hacker could potentially earn if they were able to turn off productivity by locking down an entire network using ransomware.
Seven (7) Really easy steps to prevent ransomware:
The most effective way to prevent ransomware attacks is by implementing security measures that prevent hackers from gaining access in the first place. This includes using strong passwords and storing them securely, using two-factor authentication for online accounts and keeping your software up-to-date so you're protected against known vulnerabilities. Let's look at some of the most effective ways to prevent ransomware attack.
1. Ensure your software is always up to date.
Updating your software is an easy, proactive step you can take to ensure that you are protected against the latest threats. Make sure your antivirus software is up to date and keep it that way by regularly checking for updates. Keep your operating system up-to-date as well. Microsoft issues updates on a regular basis, so make sure you have the latest version of Windows 10 or macOS installed on your devices to prevent ransomware.
How to check for software update on windows?
Go to the Settings menu on your PC.
Open the Update & Security section.
Under "Windows Update," click Check for Updates.
If there are any updates available, click Install.
Your computer will restart and install the updates.
OR navigate to Microsoft's Website and click on "Check for Windows Updates". This will open Settings and automatically check for the latest Windows Updates that are available.
How to check for OS update on a Mac?
Go to the Apple menu and select "About This Mac."
Click System Report.
Under Software, click the Install button next to the macOS update that you want to install.
Your computer will restart and install the updates.
2. Backup your system regularly.
Backup your system regularly so that it can be restored in case a ransomware attacks. It is also important to have a backup system in place, so that you can restore your files from the backup if your computer gets infected with ransomware. A good backup system should be able to store your files in an encrypted format, so that even if the ransomware attacks your computer, it won't be able to recover your files. And you should also make sure that the backup is not connected to the Internet when you are backing up data or else malware can access it.
Back up all data one-by-one. If you have many files and folders on your computer, it can be very time consuming to back them up one by one. Therefore, it is a good idea to create an exact copy of your entire hard drive using a disk cloning software or some other means (such as using an external hard drive).If you have many small files, it is better to copy them individually. This will be faster and easier than copying a large number of small files at once. You should also make sure that the backup is not connected to the Internet when you are backing up data or else malware can access it.
If you have installed any software on your computer, make sure that you back up all of the settings and preferences associated with it. If something happens to your hard drive, those files may be lost forever.
Back up all system settings and preferences, including:
The operating system.
Any software that came with your computer.
Settings for any games or other applications you have installed on your computer.
3. Avoid downloading too much software.
Avoid downloading cracked software. Cracked software may contain malware that can infect your computer. If you must download software from untrusted sites, make sure that it is from a trusted source. If you don't know whether a site is trustworthy, check to see if it has an "HTTPS" link at the beginning of its URL.
HTTPS stands for Hypertext Transfer Protocol Secure, and it means that your communications with the server are encrypted. If you can't find this link—or if it doesn't work—don't download anything from that site. Avoid using pirated software Pirated software is often loaded with malware. It's also illegal to use or distribute, so if you see someone using pirated software in a public place, report them to the authorities.
You should always be cautious about downloading software from unknown sources. App Store is an application store for Apple devices like iPhones, iPads and Apple computers. This is a trusted source for downloading apps because Apple carefully reviews each app to make sure it doesn't contain any malware or viruses.
However, there are many other providers out there that aren't as careful as Apple when checking their apps for malware or viruses. These providers don't care about your device's security; they just want to make money by getting you to download their apps so they can infect you with ransomware!
Similar to the Apple App store, Windows has Windows Store which is another trusted source of downloading apps. Windows store has a strict review process that checks each app for viruses and malware before allowing it into their store. The Windows store is a great way to ensure that you are only downloading safe apps. But, there are still many other providers out there that aren't as careful as Microsoft when checking their apps for malware or viruses. These providers don't care about your device's security; they just want to make money by getting you to download their apps so they can infect you with ransomware!
4. Use a VPN service.
A virtual private network (VPN) is a software that encrypts your internet connection, making it difficult for hackers to intercept and read your data. It can also help you stay anonymous online and access blocked websites, bypass geo-restrictions and even avoid government censorship. VPNs are also useful for privacy and security. A VPN acts as a tunnel that encrypts all of your internet traffic and directs it through a server in another location. This makes it almost impossible for hackers or anyone else to access your data and prevent ransomware attacks, even if they manage to intercept your connection.
5. Don't open suspicious emails or unsafe links.
Don't open suspicious emails or unsafe links. It's better to be safe than sorry, so don't click on links or open emails that look suspicious. If you receive an email from someone you don't know asking for personal information like your credit card number or bank account passwords, do not reply and delete it immediately. Don't download any kind of files from untrusted emails. If you receive an email with an attachment, be sure to check it before opening it. Even if it comes from someone you know, they could have been hacked and their account may be compromised by a virus or malware that could infect your computer.
Be wary of unsolicited emails from unknown senders, especially if they include attachments or hyperlinks to other sites. If you receive a message that looks like it could be phishing, don't click on any links in the email and delete it immediately.
6. Keep your security software up to date and running at all times.
Keep your security software up to date and running at all times. If you're using an antivirus program, make sure it is up to date and running at all times. This will help protect against any malware that tries to infect your computer. Update virus signatures and run a scan on your computer at least once a week. If you're using an antivirus program, make sure it is up to date and running at all times. This will help protect against any malware that tries to infect your computer.
7. Disable macro scripts from email attachments.
One of the most common attack vectors used by ransomware is macro scripts embedded in email attachments. These scripts are designed to execute malicious code, download and install malware, steal data, or encrypt your files. Macros activate malware by clicking on certain buttons and form fields on a webpage or email, so it's best not to run macros at all if you can avoid them!
Open the settings page for your email application (Outlook, Thunderbird etc.) and go to "Security" settings where you can turn off macros in emails received from unknown senders. If you want more control over this feature you can also disable them as soon as they appear in new messages or configure exceptions for particular people who need macros enabled on their devices.
You can turn off the macro execution in Microsoft Office applications by selecting File > Options > Trust Center > Trust Center Settings. Scroll down to "Disable all macros with notification" and click on "Disable all macros without notification".
How to handle Ransomware Attacks?
Maintain High Security Posture: The first step to handle a ransomware attack is to maintain a high security posture. This includes having up-to-date anti-virus & anti-malware software, firewalls, intrusion detection systems & other security measures in place. Regular security audits & vulnerability assessments should be conducted to identify & address any weaknesses in the security infrastructure.
Conduct InfoSec Training: One of the biggest causes of ransomware attacks is human error, such as employees falling for phishing emails or clicking on malicious links. To mitigate this risk, it's essential to conduct regular InfoSec training for all employees. Training should cover topics such as how to identify phishing emails, how to use strong passwords & how to avoid downloading or installing unauthorised software.
Define ISMS: Implementing an Information Security Management System [ISMS] is crucial to handling ransomware attacks effectively. An ISMS is a framework that provides a systematic approach to managing sensitive company information. It includes policies, procedures, guidelines & controls that enable organisations to manage risks & ensure business continuity.
Conduct Gap Assessment: Before implementing an ISMS, it's essential to conduct a gap assessment to identify any areas that need improvement. This assessment will help organisations understand where they stand concerning information security & where they need to focus their efforts.
Implement Security Best Practices: Implementing security best practices is crucial to handling ransomware attacks effectively. This includes measures such as patch management, access control, data backup & recovery & incident response planning. It's important to regularly review & update security policies & procedures to stay ahead of new & emerging threats. 
How can Neumetric help?
Neumetric offer a wide range of Information Security services such as ISO 27001 Certification, SOC 2 Certification, etc. & also Technical Security solutions such as Web Application VAPT, Mobile App VAPT, etc.
Neumetric's Information Security Services ensure that the Organisation achieves the Cybersecurity Compliance & Certification thereby significantly improving its security posture during the engagement period. Neumetric helps create an Information Security Management System [ISMS] that is in line with the cyber security Standard that you opt for. We also conduct Employee Awareness training for all Employees of our Clients so that they are aware of the do's & don'ts of cyber security. Neumetric also conducts regular gap Assessments to assess the Client's current cyber security posture & suggest recommendations for improvement by following the best cyber security practices.
Neumetric's certified professionals are experienced, knowledgeable & well-trained to provide the best possible experience & ensure that the Organisation is ready for any challenge that comes in its way. Contact Neumetric's Sales team to know more about the Services & how you improve your Organisation's security posture.
Conclusion
I hope this article has given you some ideas on how to prevent ransomware attacks. The best way to prevent a ransomware attack is by keeping your system secure at all times, but it's not always possible. If you do get infected with ransomware, don't panic! There are ways to get rid of it. You can try the methods mentioned in this article or visit a website like Bleeping Computer for tips and tricks on how to remove ransomware from your computer.
While you're at it, make sure to protect your personal information by creating a password manager. If your computer is infected with ransomware, the best thing you can do for yourself is to not pay the ransom. be sure to share this article with your friends and family, so that they can be prepared for a ransomware attack. If you're looking for more information about how to keep your computer secure, check out our other articles on the subject! To know how a ransomware attack can disrupt people's lives, read out article on How Cyber-attackers Target Studio Owners & Wedding Photos for Ransom?
FAQs
How serious is ransomware?

Ransomware is a type of malicious software that locks down your computer or mobile device until you pay a ransom. The problem is, these hackers don't always ask for money upfront. They might even demand payment via gift cards or other methods that would leave you vulnerable to identity theft.
Ransomware attacks are growing at an alarming rate. In 2017 alone, they cost companies $5 billion. And experts predict that number will rise to over $6 billion by 2021. It's important to recognize the signs and prevent ransomware attacks before it happens. If you see anything suspicious, contact your local cyber division immediately.
Can ransomware be detected?

Yes. There are several ways to detect ransomware, such as using anti-malware tools or scanning systems. However, these methods aren't always effective because they don't look at the root cause of the problem.

Can ransomware attacks be stopped?

There is no easy answer to the question of how you can prevent ransomware attacks. In order to do so, you must be proactive in your approach to system safety and avoid opening any suspicious email links or attachments. The best way to ensure that you are protected against ransomware attacks is to make use of the many free resources available and also to maintain proper backups in order to restore your system if it has indeed been compromised. The most important thing is to recognize ransomware for what it is and how it works, how to prevent it from getting on your system, and—most importantly—that if you are hit by a malicious attack, you can recover.

Why is it difficult to prevent ransomware attacks?

Most ransomware samples are good at evading signature-based detection. In addition, they use advanced encryption and morphing techniques to make the static analysis harder. This makes it hard to analyze ransomware binaries with automated tools which makes it difficult to completely stop ransomware attacks.